Home Siding Options For Your Home
Choosing the right style and material of siding for your home can make a dramatic change to the exterior appearance. There are many different types of material available today, each with its own fan club. There are even spray-on siding options!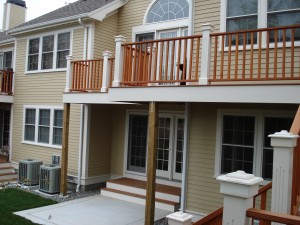 Which type of siding should you pick? You should definitely give some consideration to the style and material that best suits not only your budget, but your home's architectural style, and balance that with your personal preferences as well. Here is a summary of the most common types of siding material offered by many house siding contractors.
Stone and Cultured Stone – You'll see stone siding most often in commercial structures, such as condo complexes or hotels, and there's a reason for that – it's very expensive. Stone is elegant and rustic, earthy and sophisticated. It's also one of the most durable building materials. Granite, slate, and other quarried stones are beautiful and hardy, and can withstand weather extremes.
Brick and Brick Veneer Siding – Brick siding has many advantages. It's durable, doesn't rot or fade or require painting, and weathering only adds to its charm. It's made from fired clay and comes in a range of attractive, earthy tones. It can last your lifetime and beyond, and won't need repair or maintenance for the first couple of decades, although a water-repellent coating is recommended. In time, it will most likely just need to be patched or re-mortared. Read more on brick siding.
Wood Clapboard Siding – There's no overstating the beauty or flexibility of wood. It's organic and sustainable, and can look rich and sophisticated or simple and rustic. Maintaining wood siding is a more difficult challenge than other types of siding.
Cedar (or Shake) Shingle Siding – Shingle siding is a low-maintenance alternative to clapboard. Usually made of cedar, the shingles can be stained a variety of earthy colors, from grey to brown to rust. Staining, as opposed to painting, also minimizes peeling. Shingles can last up to 30 years, but do need to be treated every five years or so to prevent rot and mildew.
Fiber Cement Siding – One of the more versatile innovations in siding is cement fiber. Cement fiber is a durable, natural-looking chameleon that can emulate wood, stucco, or masonry. It's often referred to by the most well-known brands in the industry, HardiPlank® and HardiPanel®.
Stucco Siding – Next to natural stone, stucco is one of the oldest forms of siding in existence, used for centuries since its invention in Italy during the Renaissance. Stucco is a form of cement created by combining water with sand and lime. It can be finished in a variety of different ways (smooth, raked, swirled) to create different looks, and sand or pebbles can be added in for a coarser finish.
Engineered Wood Siding – Engineered wood, also known as composite wood, usually comes in inexpensive panels that are relatively easy to install. It comes ready to paint, pre-primed, or pre-finished, which also helps to lower installation costs. Engineered wood siding is made from wood products mixed with other materials, bonded with resin or similar, and then compressed.
Seamless Steel Siding – Steel siding's performance advantages are that it is extremely strong, won't rust (unless scratched), warp, bulge, crack, chip, peel, flake, or blister. It's low maintenance (just rinse it with a hose occasionally), and fire and bug resistant. Steel siding is custom made, so it can be pricy, but the cost can pay for itself when you factor in the durability and lack of upkeep.
Aluminum Siding – For low-cost, low-maintenance siding alternatives, nothing beats vinyl or aluminum. Aluminum hit the markets first, however, over 50 years ago. It is remarkably durable and won't crack like vinyl. It can dent, and may require painting every once in a while, but for the most part you can install aluminum siding and never lift a finger again. It is fireproof, won't rot or corrode, and is also termite-proof.
Vinyl Siding – Vinyl siding is a great economic choice, and it's durable as well. It comes in many colors, and the color is now baked in rather than applied later, so scratching isn't an issue. Vinyl isn't susceptible to rot or termites like shingle or clapboard, and it can withstand dramatic temperature extremes (including high wind).
Vinyl Coatings – The cost of vinyl panels and liquid vinyl coatings is about the same, but the warranty on liquid vinyl is much better. Liquid vinyl is sprayed on and you can match your exact color choices, just like paint. Liquid vinyl is a mix of polymers and resins, and the spray-on coatings end up being more similar to a paint job than regular vinyl siding.